my shopping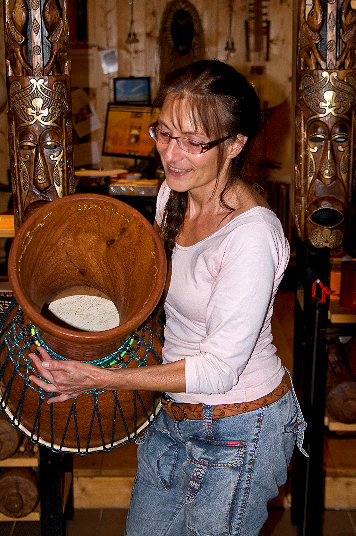 Your Djembe Drum Checklist
Djembe buying with understanding
We help you to find your personal favorite African drum. Djembe buying is easy with the help of our Djembe buying guide. We recommend you to proceed according to the following topics. Decide in which order you want to weight the criteria.
1. Quality
2. Application range
3. Sound
4. Size
5. Weight
6. Tonewood
7. Design
We love African drums, the rhythmic sounds and melodies that transform people's emotions, feelings, thoughts and heart affairs into music.
Djembe buying - How to choose the right Djembe Drum?


When you have chosen your favorite Djembe Drum Class and continue onto the page of that class, you see a main photo of each drum on the left hand side. Above each main Djembe photo we show its musical range for 'Ensemble', 'Allround' or 'Solo' use. We show the country of origin and the timber it is made from. On the right hand side we give you a sound discription in German, the sizes and details on carving, treatment, rope and drumhead.

We gladly support you in finding your personal favorite African Drum with all our knowledge. We deal mainly with carefully selected single pieces of the finest African drum manufacturers, not with mass production. Our internet offer is updated daily. If you see only one instrument displayed on a photo on our pages, than it is a single piece existing only once. Through your order you will receive exactly that shown item. The only exception is if you see a group photo with several displayed instruments like on our Basic and Standard class Djembe drums. Than we have more than one instrument of the same kind.
1. What quality do you prefer?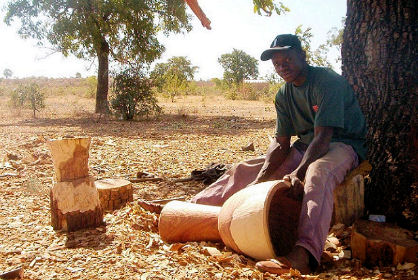 We have devided our offer into six different quality classes from 0 to 5 stars.







The more stars the better the Quality und the resulting sound. Our quality classes depend on the tonewood, the grade of the timbers, the excellence of workmanship and the quality of all additional materials like iron rings, ropes and drumhead skins. Unfortunately there are no international standards for African Djembe drums. Our quality descriptions and definitions are largely copied by many dealers worldwide without truely reaching the same standard. For nonprofessionals the truth of the advertised quality is hard to determine. Not every so named professional is in reality one. Some of the many offered so called professional Djembe drums would not even be accepted for our Basic Class category. Important know-how and detailed instructions about Djembe drumming can be found in our German Djembe Forum. Please don't hesitate to ask us for further information. We recomend beginners to start with a decent quality because the higher the quality the easyer the playing techniques can be learned an the better the resulting sound will be. It is simply more rewarding and gives you more fun and satisfaction if you own a drum which has a great range, lots of power and beautiful sounds to offer.

2. Which musical use do you focus on?


According to the main use the capability of a Djembe can be devided in Ensemble Djembe, Allround Djembe, Solo Djembe and Trance Djembe. These subdivisions tell you something about the sound character of the drum. They are an important criterion for your orientation to buy the right Instrument for your purpose. All tonal qualities can be strongly influenced by tuning and tension.
Ensemble Djembe
for Beginners, Drum Workshop, School, Drum Circle
The basic requirement for each Djembe is the Ensemble accompaniment. With it one can play and keep the recurring basic rhythms of the group accompaniments. In doing so, the drum produces a wide sound carpet, which forms the basic framework of a rhythm. When a Djembe meets these requirements, we call it an Ensemble Djembe. Most of these drums are in our Basic and Standard Class categorie. The Ensemble Djembe has its qualities and areas of application. It resonates well with the basic rhythm of the Ensemble. It is suitable not only for drum Ensemble accompaniment, but also to support a melody instrument or a singer with a broad carrying rhythm carpet.


Allround Djembe
for Beginners, Intermediates, Drum Workshop, School, Drum Circle
We place higher demands on the Allround Djembe. It should not only make ensemble accompaniment with basic rhythms possible. Further it should be able to evolve itself clearly from the basic rhythm through a stronger attack. The enjoyment of this level of drumming is usualy discovered by beginners after half a year of practice. Compared to solo Djembe an Alround Djembe is still somewhat tamer in its expression, but it allows you to "take off" in terms of expressing yourself beyond the basic rhythms. We use the term Allround Djembe when it is in-between and shows both virtues of Ensemble and Solo characters.


Solo Djembe
for Beginners, Intermediates, Advanced, Professionals, Drum Workshop, Djembe Teacher, Studio and Stage Performances Drum Circle Leaders ...
The premier class is the so-called Solo Djembe. We call it a Solo Djembe, if it is able to be played extremely clear and differentiated above the basic rhythms of the Ensemble. Due to its particularly distinguished and striking sound qualities a solo Djembe can be played very loud on request. The Tones and Slaps sound much clearer and more defined than the Ensemble and Allround drum. A real 'must-have' not only for the full-blooded percussionist, but also for the beginner who wants to learn the Djembe with ease and thereby develop faster and further. With a Solo instrument you can easily take the lead in a percussion group. It is particularly suitable for playing clear acoustic signals such as Blocage, Break and the Echauffément. As its name implies a Solo Djembe will allow you to improvise and virtuosly decorate the groove with more spectacular patterns and rolls on top. At this point, we often hear beginners say: "but I do not want to always play in the foreground and have everyone notice possible mistakes." Don't worry, you can play every solo drum gentle, soft and quietly and thus accompany an ensemble in the background. You can just as easily dose your power as on the accelerator pedal of your car. No one would always drive full speed, if he owns a powerful sports car. The dosing is up to you. Any Solo Djembe can even be tuned down low to meet the requirements of a carrying Ensemble drum. But the nice thing about a Solo drum is that you can play it with much less effort. Even extra quiet, more percice and beautifuly clear and still sonically very differentiated. The tonewood of a good Solo Djembe should be very hard and the workmanship very precise.

Trance Djembe
for Beginners - Professionals, Trance Musicians, Shamanes, Drum Circle, Therapists
A special position is taken by the Trance Djembe, as it is not tuned for the classic use with clearly focused sounds, that are responsible for one of the polyrhythmic layers in a normal percussion groop. It is rather used for meditative drumming, shamanic use, dream voyages and trance states. Its rich wide and room filling properties help us to perceive deeper levels of consciousness. We choose Trance Djembes with a particularly large diameter, as these particularly favor a stronger sustain character with a more extended vibration behavior. Along with the right drum head, such an instrument can sound most impressive, especially because the djembe shape itself amplifies the sound signal so much.
3. What kind of sound do you prefer?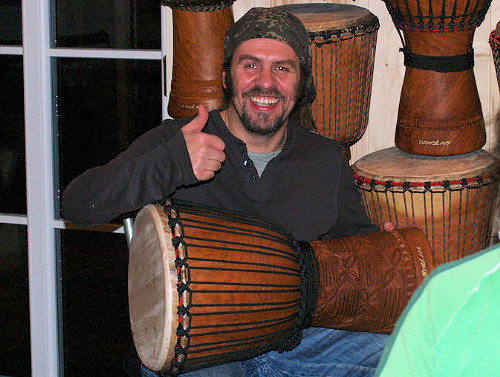 The most important thing about a drum is it's individual sound. You can define your personal taste focusing on characteristics using terms like warm, metallical, dry, sustain, overtones, depth etc. We gladly help you find your exactly matching favorite drum if you can explane what you expect. Our experience is that soundfiles on the internet can't possibly show the true sound range of a live Djembe. Therefore we prefer sound discriptions that we supply in German language on each individual drum.

Photo: Djembe teacher Ulf Hesse from Living Rhythm buying Djembes in the Djembé Art Shop.

However, we are prepared to make short recordings for you in individual cases, to give you an audio impression of your favored instrument :-) Please be aware of the fact that the natural drum sound is much fuller and more detailed than the audio file can reproduce it. Often the deep bass frequences and many of the high frequences can not be heard on ordinary computer loudspeakers.
You can use quality Hi-Fi earphones go get a closer impression, but despite all technique it never reaches the level of the natural drum sound.
One other important point is that audio files don't show the sound differences of individual drums clear enough. We hope for your understanding.
4. What height does my Djembe drum need to have?


This following chart allows you to find the optimum Djembe height
for your size in centimeters.

| | |
| --- | --- |
| Body hight | optimum Djembe hight in cm |
| bis 1,00 m | 32 - 38 |
| bis 1,10 m | 40 - 44 |
| bis 1,20 m | 45 - 49 |
| bis 1,30 m | 50 - 53 |
| bis 1,40 m | 53 - 55 |
| bis 1,50 m | 55 - 57 |
| bis 1,55 m | 56 - 58 |
| bis 1,60 m | 57 - 59 |
| bis 1,65 m | 58 - 60 |
| bis 1,70 m | 59 - 61 |
| bis 1,75 m | 60 - 62 |
| bis 1,80 m | 61 - 63 |
| bis 1,85 m | 62 - 64 |
| bis 1,90 m | 63 - 65 |
| bis 1,95 m | 64 - 66 |
| bis 2,00 m | 65 - 67 |
Shorten the hight of your drum on request?


Yes, we can shorten Djembe drums to any specific hight for 20 €. Usualy this does not effect the sound.


5. What weight can a drum have?


Weight is important if you mainly play your drum in a standing position and carry it with a strap. Of course the heavy and dense timbers sound best, but be aware that especially woman prefer them not being too heavy. Transportation means should be take into account, too. If you are a man you can generally easily cope with playing a drum in standing position with a weight of up to 9 kg. For woman 8 kg usually is heavy enough.

6. Which timber should your Djembe drum have?


Be aware of the tonewood when buying a Djembe. All our drums are without exception hand carved from one single tree trunk. They are made from the most sought after resonant African timbers such as Lenké Wood (Afzelia africana Leguminosae), Mahogany (Khaya senegalensis Meliaceae), African Rosewood (Dalbergia spp., Fabaceae), Buschmango Wood (Cordyla pinnata Fabaceae), Iroko Wood (Chlorophora excelsa Moraceae) and other woods. Every tonewood has its own characteristics and speciallity.

Lenké wood is one of the most respected tonewoods for Djembe drums worldwide. But Mahogany and Rosewood are just as good with excellent sound characteristics that intensify the entire range of tonal possibilities on a Djembe drum. Than Bush Mango Wood and Iroko Wood follow. Among the cheaper drums the lightweighted Melina Wood is used and has moderate tonal qualities. The lowest grade timber for Djembe making is definately Tweneboa Wood and the so called Palm Wood. We do not use these Softwoods for our own Djembé Art Brand due to the poor sound of these timbers and there lacking stability. For further information about all Djembe timbers and other very rare excellent tonewoods see African Drum Tonewood
7. Choose a Djembe drum design that you can identify with


As with so many things, it gives us great pleasure if we can call a visually beautiful Djembe our own. A beautiful instrument attracts everyone and encourages you to play it. A good looking drum also decorates your house. Playing with such an instrument can even strengthen our self-confidence. It does not only bring us joy, but also positive feedback from others. Therefore our advice is: Choose a drum that you can identify with :-) There are many possibilities that affect the look of your drum positively. It all starts with the timber you choose, the shape, carvings or plain surfaces, colors of ropes and rings, Drumhead Paintings and lots more. In our Gallery of Treasures you can admire the treasures of our own Djembe making from the past 20 years and see what is possible. Many of our Galery drums were custom build for individual customers.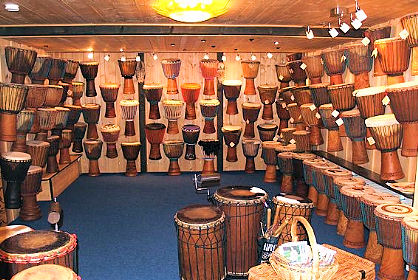 Test all drums in our display rooms


If you want to visite our shop in Germany we gladly take the time to give you our personal and individual assistance. This is the best way to convince yourself of our high quality and to find out which is the perfect drum for you. Enjoy Djembe buying with professional assistance. Many customers come to us from all over the world. We can recommend accommodation for you nearby so that your visite will be like a small holiday. Our region has lots to offer and is highly praised for its hiking trails and its beautiful nature, as well as its historic background.