my shopping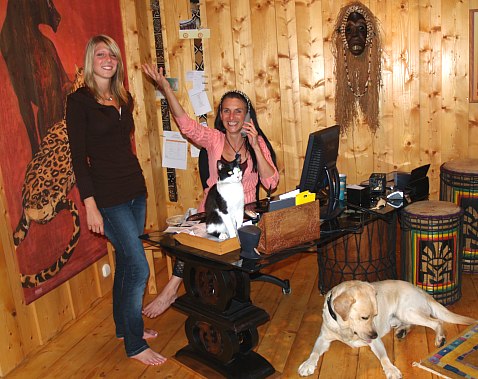 Shopping Cart
We check each order personally and send you an order confirmation and a proforma invoice by E-Mail for your control.


gavin@djembe-art.de
We answer E-Mails reliable within 24 hrs! If you don't receive any reply within one working day please try again, because on rare occasions some E-Mails can get lost due to internet problems.




+49(0)2605 8495695
You can reach us Mo-Fr 10-18, Sa 10-13. We speek English & German fluently and a little bit of Spanish. Feel free to call us for your inquiries.
English website specifications

We have English website versions for most of our general information that you can find by clicking the English flag on the top left aerea. But on all product pages there is only one page available in mainly German with English and French subtitles. Each item description also contains a small block with a short English information text next to and below each item photo. The reason is that most of our Instruments are single handmade pieces that only exist once. After sales we delete the instrument. For this reason having two sites with the same single piece instrument makes things too complicated for us. We hope you understand.
Visitors please make an appointment

Our shop in Münstermaifeld has no fixed opening hours. Therefore please call us or send us an E-Mail prior to your visit. We ask for your understanding that we only accepts cash payments in our shop.
How does the shopping cart work?


Simply klick onto the shopping cart symbol or the Art.Nr. You always find them on the left side underneath the main item photo. With each click onto the shopping cart your individual item has been added and a shopping cart window opens. You can type in amount, size, color etc. as you wish or add more items or delete them by hand. Save detail before proceeding by klicking on to the 'Save Details' button. If you want to continue shopping on our site just click 'Continue Shopping' and your shopping cart remembers what is inside. If you click onto a new item your shopping cart window pops up again containing all items that you have previously added. Before you send it off please check if you have filled out at least your E-Mail address, otherwise we can't answer.


Has your shopping cart disappeared?

If you have lost your shopping cart window, no worries it is probably simply behind other windows and will pop up again when you klick onto 'my shopping' on the top rights or any Art.Nr. or shopping cart symbol underneath a displayed item.

What happens after my order?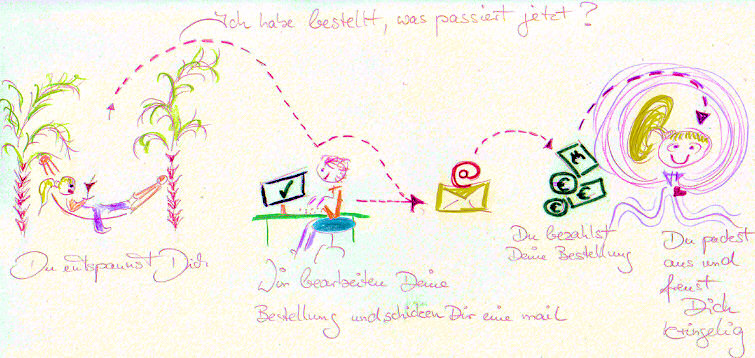 You relax :-) We check if everything is available and work out the cheapest shipping price for all items together. Then we send you an E-Mail offer containing your proforma invoice. You can still make changes if you wish and you can choose your preferred payment method. If your E-Mail is correct we usually answer within 24 hours, if not check your Junk E-Mail file or send us another message please. We always ship your order immediately on the same day of money arrival. This way we enshure that you receive your items as fast as possible. While your parcel is on the way you get a tracking number from DHL so that you can follow and control its journey to you. Than your parcel arrives and you will have a great time full of happiness and joy.
How do I pay?

We offer several different payment methods:
Bank Transfer

If you choose advanced bank transfer we can offer the cheapest shipping modes with no extra charges added. We send all items on the same day of money arrival. The moment your parcel leaves our house we send you a confirmation including the DHL tracking number, so that you always know where your order is and when it arrives. Our DHL Premium services are generally very fast worldwide.

no extra charges
safe and fast through bank transfer
easy with or without online banking
immediate shipping after money arrival
Cash on Delivery

Paying by Cash on delivery is only possible for Germany. There is an extra charge of 5,90 € + 2 € for the postman if you choose this method. You pay DHL on your doorstep when your parcel arrives.

+ 5,90 € extra charge + 2 € to DHL
shipping after order confirmation
pay at your doorstep on receipt
PayPal

If you need to transfer money from overseas, PayPal is an easy and safe method. For us it is a lot of work to generate the extra PayPal request. So it can generate extra costs. After your order reaches us we send you a PayPal money request with your proforma invoice. Please note that the PayPal money transfer is not always fast. The moment your money arrives we ship your parcel and send you a confirmation including the DHL tracking number, so that you always know where your order is and when it arrives. Our DHL Premium services are generally very fast worldwide.

Payments from Germany and EU only after special request
Please wait for your proforma invoice with the total cost
Advanced Invoice

Especially popular with schools and public institutions if the cash office can instruct the payment sum only on presentation of an original invoice. In this case we send you the invoice in PDF format by E-Mail and the goods immediately after the payment has been settled.

Invoice advanced
shipping after money arrival
no extra charges
Payment by installments

We offer payment by installments with zero % interest. On request we can reserve your favorite dream instrument, so that it is not sold out before you can settle the payment. This requires only a smal deposit on agreement and we will reserve the item for you as long as you want. After we have receved your last payment we send your dream instrument on its journey to you, so that nothing stands in the way of your drummer career:)

deposit on agreement
reservation as long as you want
Zero % interest
no extra charges