my shopping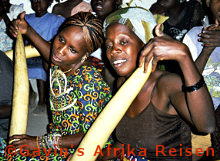 Selected accessories for Djembe and African percussion. All displayed items are available and can be shipped with in 24 hrs. The following pages are multilingual. On the left hand side you find the main item photo. Above it the name of the item in German, English, French and African, the country of origin and the material. Underneath the photo is the Order No. (Art.Nr.) and the price. On the right hand side you see a German description, the size and an orange box with a short English description. If you need further information don't hesitate to send us an E-Mail to gavin@djembe-art.de

Djembe Drum Bag, Case, Cover & Strap
Storage and transport protection for African drums
and other percussion instruments.

Sticks & Mallets for African Percussion
Your important tools
to create the right tone.

Goatskin, Cowskin, Calfskin, Peaux de Chevre et de Vache
Selected and proven animal skin
for drumhead repair and instrument making.

Rope, Ring, Tools, Tuning & Tightening
for drum making of all kinds
and repair work.

Hardwood Oil & Insect Protection
for drum and drumhead
maintenance.

Djembe Drum Shell
well prepared and selected hardwood Djembe shells
to build your personal favorite drum.

Drum Stand & Rack
For Djembe, Dunun Bassdrum, Bougarabou,
Balafon, Krin, Waterdrum, Bells an more.

Djembe Necklace, Earring, Bracelet, Candle, Masc
Artistically and lovingly handmade
in small numbers.

Present Voucher, Postcard und more
Ideal and flexible presents
for all friends of African drumming.

Drumhead Painting
Individual custom hand-painted artwork
that makes your drum unique.